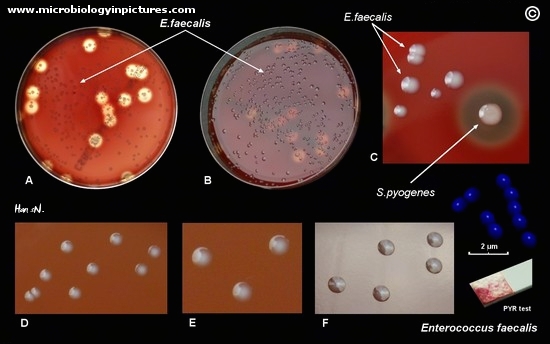 Enterococcus faecalis on Columbia agar with 5% sheep blood. Fig. A, B, C: mixture of colonies of E. faecalis and Streptococcus pyogenes (from a patient with prosthetic joint infection). Colonies are without hemolysis (gamma-hemolysis) or, in some strains, surrounded by a zone of alpha-hemolysis.
Enterococcus faecalis – formerly classified as part of the Group D Streptococcus system – is a Gram-positive, commensal bacterium inhabiting the gastrointestinal tracts of humans and other mammals. Like other species in the genus Enterococcus, E. faecalis can cause life-threatening infections in humans, especially in the nosocomial (hospital) environment, where the naturally high levels of antibiotic resistance found in E. faecalis contribute to its pathogenicity.
E. faecalis can cause endocarditis and bacteremia, urinary tract infections (UTI), meningitis, and other infections in humans. In the United States, E. faecalis is associated with nosocomial infections including catheter-associated UTI, central line-associated bloodstream infection, and surgical site infections. Several virulence factors are thought to contribute to E. faecalis infections. A plasmid-encoded hemolysin, called the cytolysin, is important for pathogenesis in animal models of infection, and the cytolysin in combination with high-level gentamicin resistance is associated with a five-fold increase in risk of death in human bacteremia patients.
Abbreviated from Wikipedia.